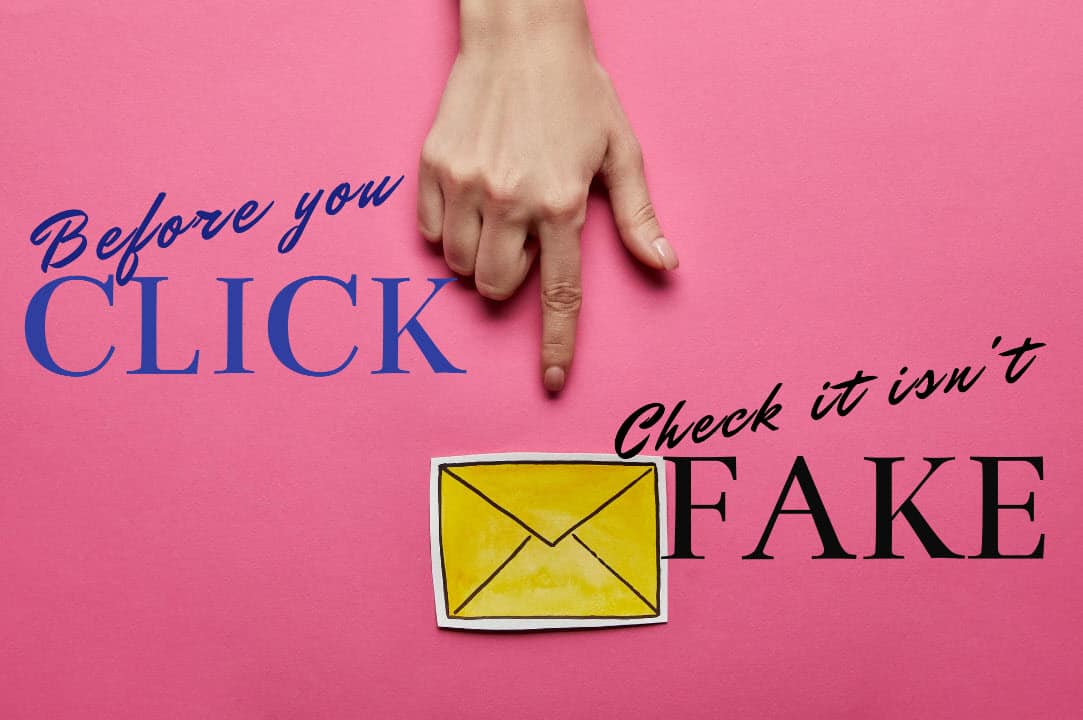 Most of us will have received a fake text message.
It appears to be from your bank… or phone company…
Or telling you about a parcel they tried to deliver.
It has a link to click.
The link looks authentic.
But it has that fake stamp on it. 
And you can't quite put your finger on what's wrong with it.
What Happens if You Click a Fake Link?
Most likely, it'll take you to a fake website.
Fake, yes. But hard to tell it apart from the genuine website.
They'll collect lots of details about you.
Then they'll access your account and start spending your money.
All before you realised you've been scammed.
How to Spot a Fake Text Message
So how can you tell if it's fake and avoid being a victim?
Well, I did a 20-minute webinar to show you what to look for.
It's in this video.
In Tech it Easy style.
So sit down with a brew, and you'll find out how to identify fake text messages.
"But I don't have time to watch a video, David. Please tell me in a few words."
OK. Here's a brief summary.
In the first part of the video, we looked at what I've previously written about.
You can read that here: How to Spot Scam Links in Texts (it'll open in a new tab).
Then come back and we'll continue…
If Only Scam Texts Were This Obvious
Can you spot the mistakes in this?
Well, apart from the clickable link clearly being fake…
There are a few giveaway mistakes.
And most are to do with basic English writing skills.
No space between some words.

P&O is in lower case. Staff at the real cruise company wouldn't dare do that.
Claim your price, not prize. You'd pay a big price by clicking that link!

Only a scammer would awaken you at 01:27.
If only all scam text messages were so easy to spot.
I actually made that one up, just to demonstrate some things to look out for.
But let's look at a real scam…
Royal Mail Scam Text Message
Our friend, Michele, received this text message.
It looks like it's from the Royal Mail, doesn't it…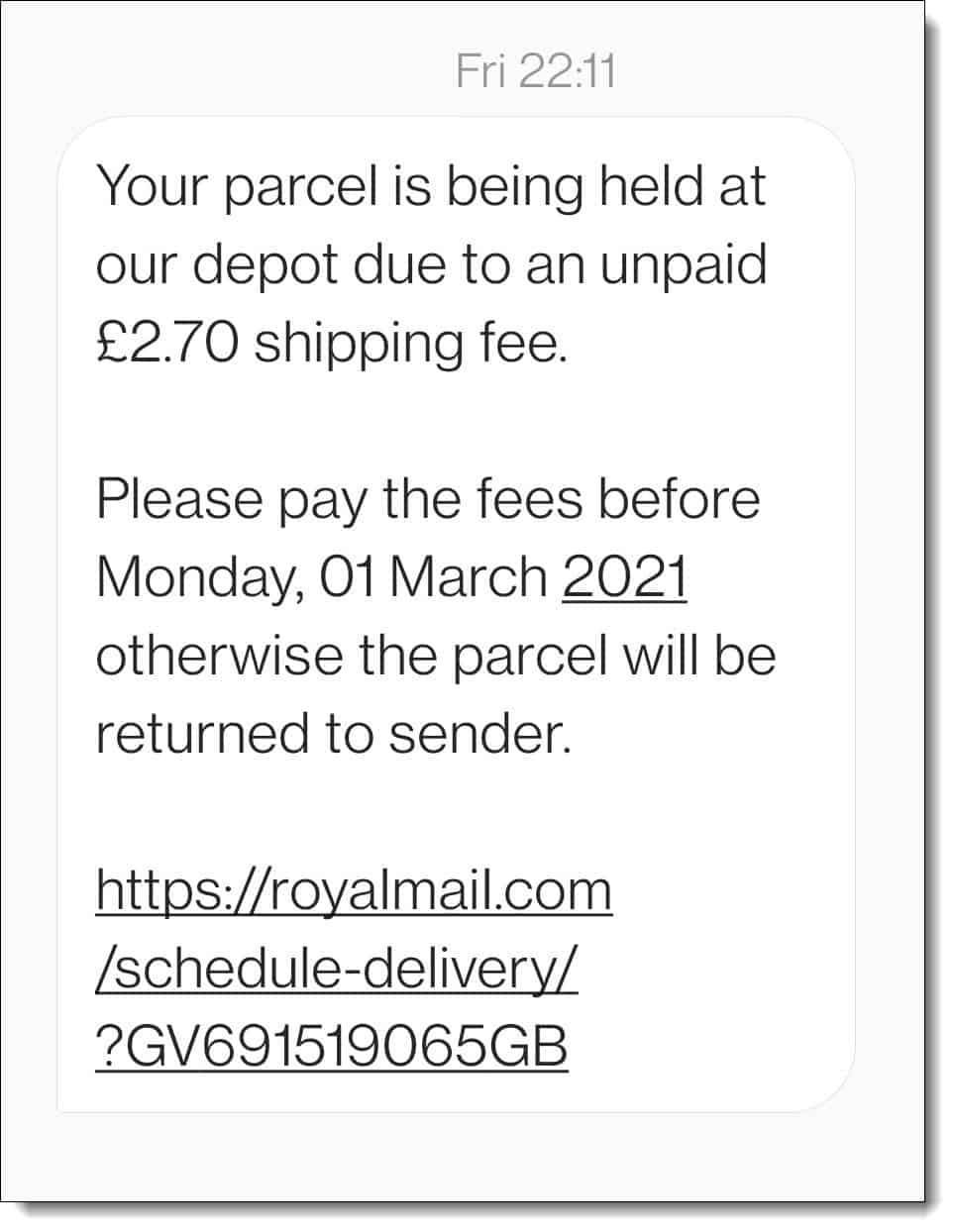 It looks genuine.
But it's an elaborate hoax.
How can you tell, David?
First, let's put it through the basic English test:
Did you spot them?
No full stop and capital letter.

Missing article ("the").*
Please pay the fees (plural) rather than the fee.
*Perhaps the scammer is an Elvis Presley fan.
Let's turn our attention to the clickable link.
That looks like a genuine Royal Mail website address, doesn't it.
If you were to copy it and paste it into Word (or some other word processor), and then change the font to…
Times New Roman
…you'd discover something very interesting.
See if you can spot it.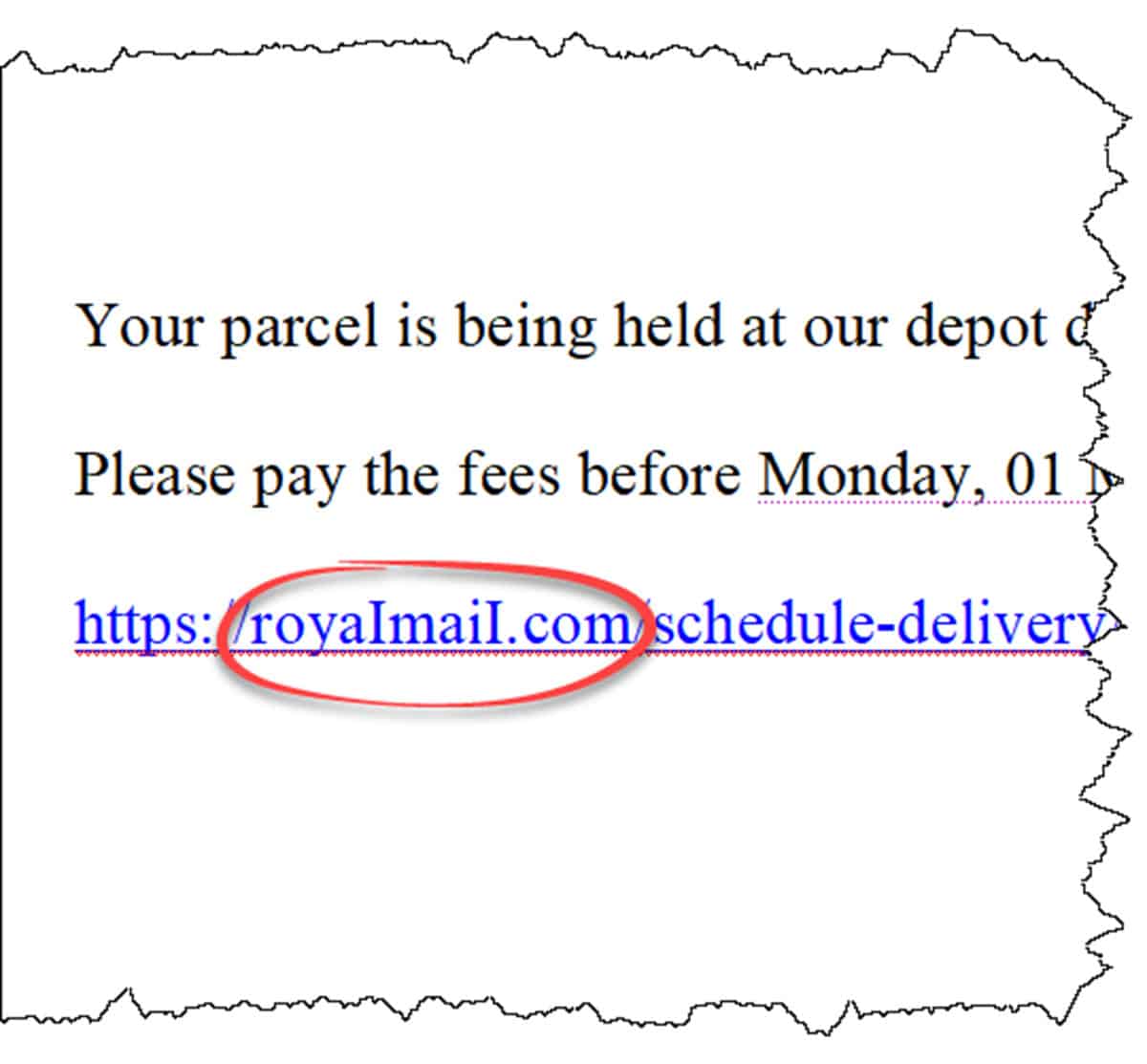 Yes. The lowercase L is actually a capital I.
How cunning.
The scammer might not be very good at English.
But he's a deceiver, all right!
Expose the Scam
If you want to find out more about the website, such as:
Its age.

Where it's registered.

To whom you can report it.
…you can discover lots on a WHOIS website.
If you decide to do that, it's worth watching the last bit of the video (from the 14-min point) for a demo of what to look for.
Two Steps to Stay Safe
So, always put your text message through these two checks:
Look for basic English errors.

Don't believe what the links says.
And if ever in doubt, pick up the phone and ring the real company to check.
Action Fraud
Finally, if, in spite of being so careful, you do ever fall victim to fraud, you can get in touch with these people.

Action Fraud is a UK Police Team, specialising in fraud and cyber crime.
But hopefully, after reading this and watching the video, you'll never need to call them. 
How can you tell if a link in a text message is fake and will take you to a scam website? Here's a way to check if it's fake and avoid getting scammed. #scam #ScamAlert #cybercrime
Click To Tweet
Fancy Watching the Video Now?