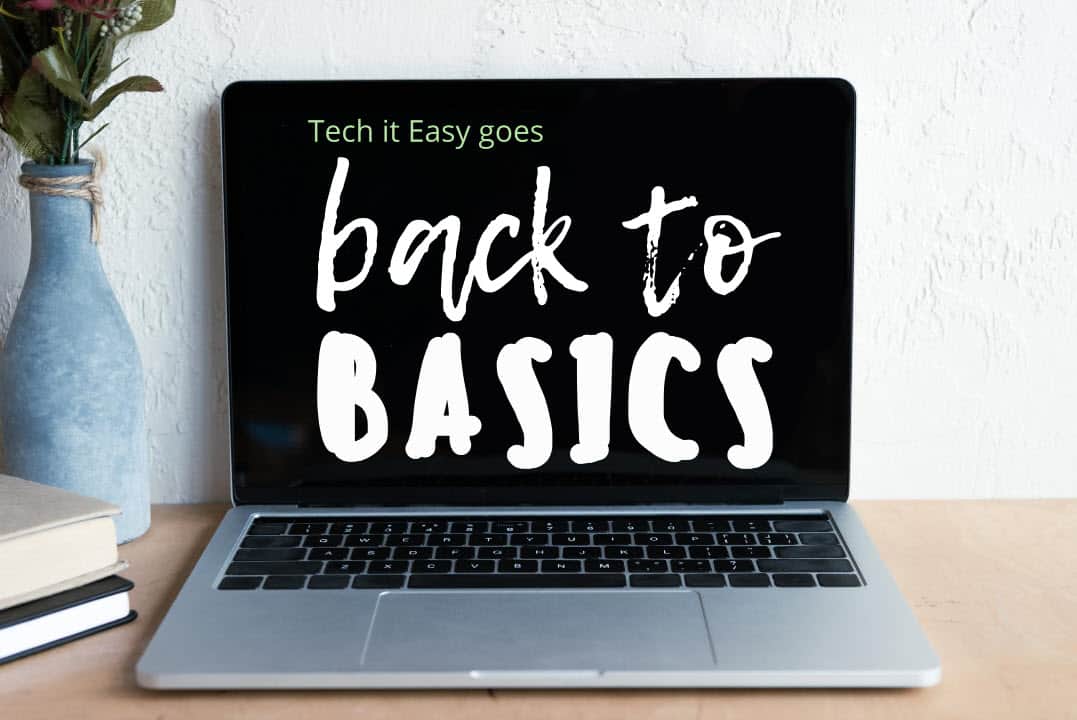 Tech it Easy has gone back to basics. 
And you need to be there!
Go on. Persuade me, David! Why should I go along to one of your Tech it Easy classes?
OK. I'll try to persuade you.
Prefer to listen? Here's the podcast.

Listen & Subscribe in Anchor or Apple or Spotify
Or watch the video…

New Workshops
The lockdowns have finally ended and Tech it Easy has relaunched in Wigan.
And I'm currently building some brand new workshops.
Uh? Don't you have loads of them already, David? Why new ones?
Because, dear reader, we've gone right back to basics!
Tech Made Easy
In the previous season of Tech it Easy, we did some workshops on topics like…
How to build a free website

SEO – how to get found on Google

How to launch a podcast

Google tools
And lots more.
But something interesting happened.
Listening
When you listen to people, you find out what they want to learn. Practical stuff. 
And when people ask some great questions, such as…
What is copy & paste? Is it like pasting wallpaper?
What do you mean by left click on a mouse?

How do arrange your pictures and things into folders?
…then you know there are some exciting, practical and helpful Tech it Easy workshops just waiting to be built.
Back to Basics
So that's what I'm doing…
Building the Tech it Easy Back to Basics workshops.
Go on. What are they, David?
The first one was about using a mouse. 
We determined what the left button does, and the right button too.
Then we used a mouse to copy & paste, move text, highlight text, change text colour. 
In other words, we took the fear out of using a computer.
Missed it? Don't worry – here it is condensed into a quick explanation and a 2-minute video: What's the difference between left and right mouse buttons?
Time to Boast
Hey, I don't want to boast, but…
One attendee enjoyed that session so much that he even wrote a Google review.
Thanks, Derek!
Upcoming Tech it Easy Workshops
What's next, David?
Glad you asked. The next workshop is about Email.
Hey, I don't want to date this, for the sake of future readers, but it's down at The Edge in Wigan, on Wednesday, 1st September 2021 at 7:30pm. 
We'll be looking at things like…
How to forward or reply (and "reply all")

How to delete sensitive parts of an email when you forward it

What's CC and what's BCC – and how do I use them?

Getting an email account

Composing a great email
And in future weeks, we'll be doing topics such as…
Folders

Using Google to find anything

Simple spreadsheets

Staying safe on Facebook
Drop In
Hey! Don't worry if you can't get to a particular workshop…
Because they're all individual workshops. 
You can pick a topic of interest or attend them all.
Free Basic Computer Workshops in Wigan
Oh, and did I tell you that the workshops we're running at The Edge are completely free?
Why? They're run as a community group. 
And on top of that, I simply enjoy the experience of helping people to learn new skills and succeed.
Good Reason to Attend Tech it Easy?
And that is the reason you should attend Tech it Easy.
Whether you want to learn the complete basics…
Or you want to learn a new skill…
Tech it Easy takes tech…
And makes it easy.
Tech it Easy has gone completely back to basics and is doing a brand new series of workshops to help you get to grips with using a computer and #technology.
Click To Tweet
What Would You Like to Learn About?
I'm always looking for new topics that people want to learn about.
Do you have one? Please pop it into the comments box below. You never know… it might become a future Tech it Easy workshop.
Listen to the podcast version
.
Listen & Subscribe in Anchor or Apple or Spotify